FCC's children's ministry seeks to envelop our children with the love and knowledge of Christ in ways that engage and inspire them to faith, service, and creativity.
Get Connected
Sunday Morning Opportunities (Year Round)
Sunday Morning Nursery—Loving Child Care
Sunday School at First Christian begins from the earliest moments of a child's life. Although our babies aren't learning Bible stories yet, they are being loved and cared for by our nursery staff. Parents leave a cell phone number where they can receive a silent page if needed.
Time: 9:30 a.m. – 11:30 a.m.
Location: Ask a greeter
Sunday Morning Nursery—Toddlers
Toddlers experience God through relationships with caregivers and friends and through manipulating their environment. Our beginners are just starting to learn to obey rules and play nicely with others. They come to know God through care, attention, encouragement, and loving guidelines. The classroom is equipped with blocks, art materials, areas for make believe, push and pull toys, safe climbing equipment, and lots of room to move about. The children are encouraged to question and explore, and caregivers always have time to listen.
Time: 9:30 a.m. – 11:30 a.m.
Location: Room 11
Sunday School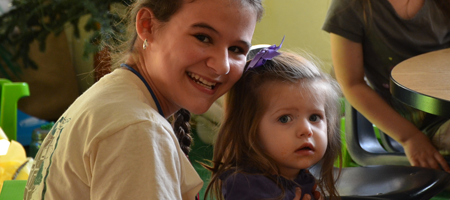 Preschool through 1st grade meet in Children's Sanctuary, and grades 2nd through 5th meet downstairs in Room 202. Parents, please bring your children to their rooms at 9:15 to sign them in and return at 10:15 to pick them up.
Children's Worship & Wonder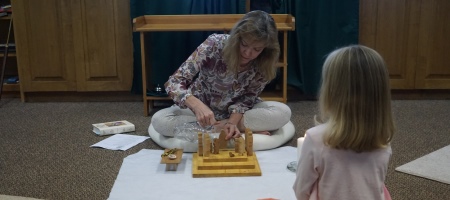 An exciting way of approaching faith formation with children is the best way to describe Children Worship & Wonder. In Children Worship & Wonder children have the opportunity to hear Bible stories and form responses out of their own life experiences. They learn the meaning of church traditions and participate in worship practices.
Location and time:
Children Worship & Wonder is offered every Sunday during the 9:30 am worship service immediately following the children's moment. This ministry is for children preschool through 1st grade.
Young Disciples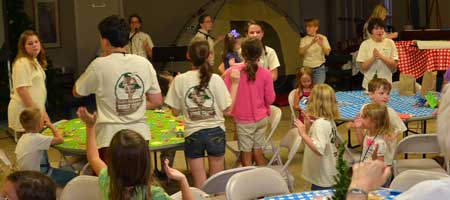 Young Disciples includes the same main components as the traditional worship, blending some Children Worship & Wonder structure with adult worship resources, and with opportunities for the kids to lead as much as possible through scripture reading, prayer, and music.
This ministry is designed to provide meaningful experiences for older children as they journey from Children Worship & Wonder to the Traditional Worship Services as active worshipers and leaders.
Children are also often involved in worship leadership, and have a service entirely designed and led by children in October called Children's Sabbath.
Location and Time:
Young Disciples meets during the 9:30 am worship service on the 2nd & 4th Sunday of the month. See a church greeter for location information. This ministry is for children in grades 3rd—5th.
Wednesday Evening Opportunities
From 5:30 pm—7:00 pm each Wednesday (with a few exceptions here and there) children in K—5th grades gather for a fellowship meal and Bible study, games, mission projects, or purely fun activities.
Friends and visitors are always welcome!
Summer Opportunities
Vacation Bible School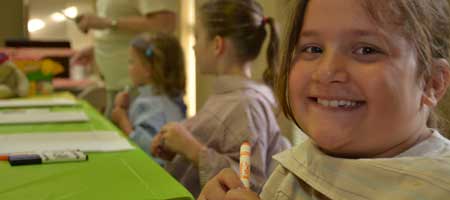 Vacation Bible School is for children preschool—5th grade. Dinner will be served each night. We will have our annual cookout on Friday night along with a program from the children.
Children's Ministries Task Group
We have an excellent group of people dedicated to serving on the Children's Ministries Task Group. We get together to discuss what is happening in children's ministries—Sunday School; Children's Worship & Wonder; Young Disciples; Weekly Sunday Evening Activities; Family Ministry; ECM Connections; Special Children's Events; Recruiting Volunteers; and Ways to Improve Our Children & Family Ministries.
Want to know more?
The hope for this group is working together to make FCC a vibrant, nurturing and welcoming place for all children and families.
Contact Rev. Laura West, Associate Minister to Children & Families, to ask questions, receive a calendar of upcoming activities, or be added to children & family ministry communications.