Grow your faith and relationships beyond just Sunday morning worship with First Christian Church's Adult Ministries. There are many opportunities throughout the week and on the weekends.
Get Connected
Sunday Opportunities
Sunday School Classes that meet from 9:15am to 10:15am every Sunday
31 Flavors – is participating in a long-term study of Ray Vander Laan DVD series. The class views a video presentation and discusses what we've learned from the video. Please join us for this informative series set in the Holy Land.  This class meets in the Garden Room.
Bethany
– The class is studying Biblical words and their meanings. This class meets in the Joyce Jones Parlor.
Growing Christians – Meets downstairs in Room 209. This diverse group is currently studying the Professor David Brakke's video series "The Apocryphal Jesus." Much of what we know about Jesus today actually comes from apocryphal sources rather than the Bible. From forged letters to recently discovered gospels, this series explores the stories and ideas that shaped the foundations of early Christian thought—and continue to influence Christianity today. Please join is for this fascinating historical study.
New Testament – Meets in the library and is using a DVD on the Sacred Texts of the World by Professor Grant Hardy. This study started with Hinduism and will proceed through the most important religious traditions in the world. This will offer us a window into a new world of ideas and practice. The value of mutual understanding in this shrinking world can not be overstated. Class discussion is led by Bob Senn. New members are welcome to join, especially when we start each new religion. The DVD can be borrowed for home viewing to catchup on missed lessons.
Weekday Opportunities
Vintage Vagabonds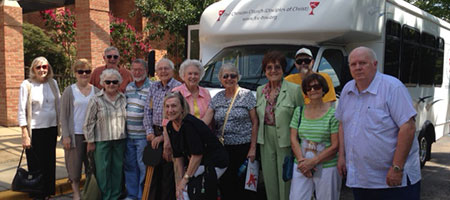 The more experienced adults of First Christian Church and other friends gather periodically for events at FCC and off campus.  These events engage older adults in community-building, learning, and fun.  Recent events include a guided tour of Temple B'Nai Sholom and lunch downtown, exploring the new visitor center and lunch at the Huntsville Botanical Garden, visit to 1818 Farm in Mooresville with BBQ lunch, and an indoor boxed lunch picnic with a musical guest in the Family Services Room of FCC.  Contact: Bob Cloyd
Lunch/Supper Clubs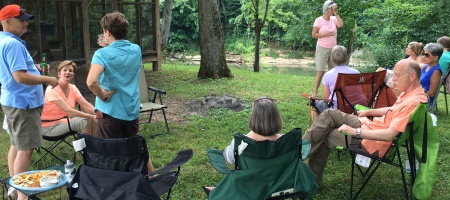 FCC has several groups of 10-12 adults who meet monthly for good food and conversation. Each group has a coordinator and decides whether it will meet in homes or restaurants for breakfast, lunch, or dinner. Join us, and experience new restaurant adventures or home-cooked meals – potluck, cookout, wine and cheese tasting, finger foods, brunch, soup supper, picnic – anything goes! This is a great way to spend quality time with a few friends from church.  Contact:  Mary Ann Anderson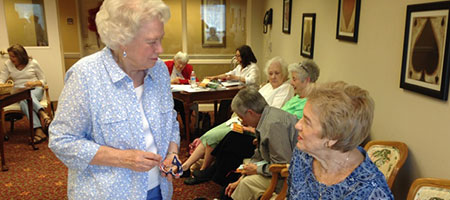 Christian Women's Ministries (CWM) is an umbrella organization for all women's ministries at FCC. The goal is to provide opportunities for spiritual growth, enrichment, education, and creative ministries to enable women to develop a sense of personal responsibility for the whole mission of the Church of Jesus Christ. To find out about the different circles and their meeting times click [HERE]. Contact: Nancy Waites
Men's Bible Study Group
We are a diverse group with different backgrounds and are seeking to learn more about what God's plan is for us in the world. We meet once a week on Wednesday at 6 P.M. and all are welcome.  We use study guides that are usually provided free of charge.  We agree to keep our discussions confidential.  What's said here, stays here.  If we disagree, we disagree in God's Love.  We respect each other's opinions and there are no questions that are not welcome.  We are all on a faith journey together and we are trying to stay on the path and learn about God's word and God's plan for us, our family and our congregations at large. We invite you to come and join us. Let's journey together, one step at a time. Contact:  Monty Love.
Quilters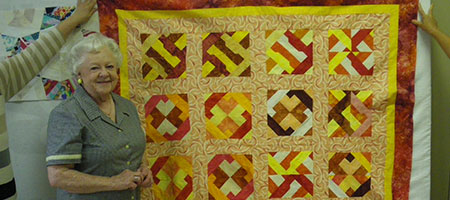 "Peace by Piece" is our quilting group that meets at First Christian Church every Monday from 10 AM to 5ish in our Family Services Area.  It is a group of kindred spirits that meet to share birthdays, ideas and also support our local quilting shops with an occasional road trip (and lunch).  All are welcome and those that would like to come may contact me, Dinah Love.  Come and join the fun. Contact: Dinah Love
Prayer Shawl Ministry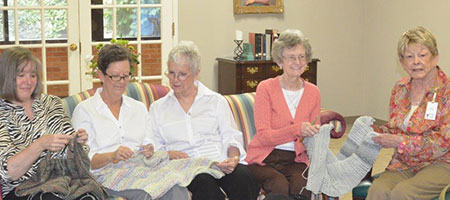 The Prayer Shawl Ministry presents hand-made shawls to those in the congregation facing serious health problems or life-altering situations.  For other concerns (& those in the community), a prayer square is presented.  The shawls & squares are blessed in both worship services before presentation.  The hand crafters work on these gifts on their own time with the group meeting the third Monday of each month from 1 p.m. to 2 p.m. to discuss the ministry. Contact: Mary Ann Anderson 
Emmaus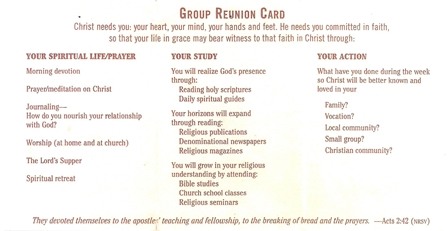 Emmaus Reunion group meets every Wednesday morning at 9:00 for those who have attended a Walk to Emmaus or similar weekend.  Reunion Group can also provide information on attending a weekend. Contact: Roberta Shivers
Interested in something not on this list? – Contact us