Why should you choose Early Childhood Ministry for your Day Care and Preschool Needs?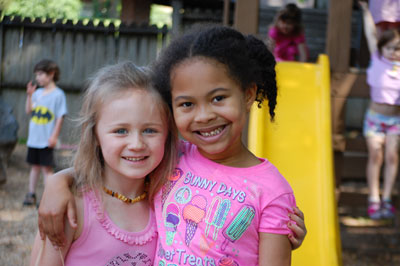 The First Christian Church – Early Childhood Ministry (FCC – ECM) is a church-sponsored childcare center licensed by the State of Alabama Department of Human Resources. We offer a high quality preschool and daycare experience for your child. Here is a list of only a few of the items ECM can offer you and your child:
An environment where children can get the "BEST of both worlds: a Christian environment and ACADEMIC excellence"!
The Director of ECM has a degree in Early Childhood Education and holds current certification with Highly Qualified Status in the State of Alabama. Our Kindergarten teacher and Pre-k teachers all hold Elementary Education teaching degrees. Our entire staff is required to have extensive, regular training in the developmental stages of childhood. We are determined to provide developmentally appropriate care for each child. We believe that we are educating the "whole child". We offer many opportunities for each child to grow in spiritual, emotional, physical, social and academic ways. A priority in our program is that we teach Christian values which build lasting character.
A SAFE environment
Since we are licensed by DHR, we are required to meet strict criteria in keeping our facilities safe and secure. Each family is given security cards to enter the building. Additionally, the doors of the entire building remain locked throughout the day.
Carefully planned curriculum that promotes cognitive development, creative development, and problem-solving skills.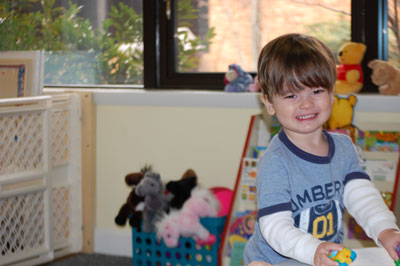 Our general approach to learning is "play-based, teacher-led". We believe that all children learn through play. In every classroom we provide hands-on activities and close interaction with teachers. A Beka Book curriculum is used in pre-k and kindergarten to aid in development of pre-reading and pre-writing skills. Our curriculum also includes number-sense, science in God's world, music, visual arts, fine and gross motor skills, and a weekly Chapel Time. This year we are excited to add Spanish class to all of our students!
AMAZING PLAYGROUNDS!
Two spacious playgrounds that are safe, well-equipped, and well-supervised at all times. We believe that playground time is vital in the development of preschoolers. When playing outdoors they are developing language and social skills by talking, negotiating, sharing, creating order and rules, and trying out leadership roles. If weather does not permit playground time, the children will go to the gym.
We provide a "literacy-rich" environment for all of our children from babies up to kindergarten.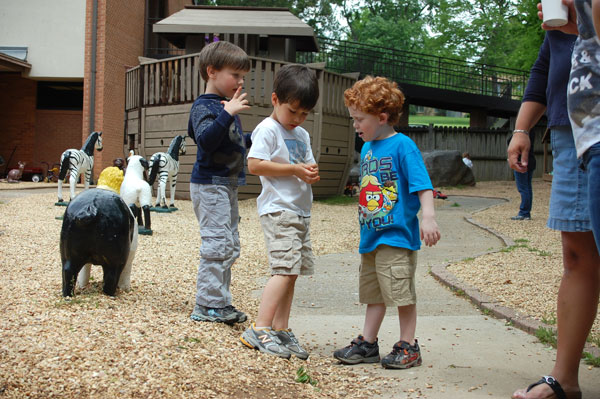 We hope that we can help your child develop a love for reading. "Literacy Centers" are used as part of the curriculum in all pre-k and kindergarten classes.
Hot lunch and hearty snacks.
Our wonderful on-site cook provides nutritious snacks and lunches.
What Child Care options can Early Childhood Ministry offer your family?
Mothers Morning Out
Come one day or all days or any combination of days. Perfect for a first time school experience. More unstructured than preschool.
8:30-12:30, 1 to 5 days a week.
Children 18 months to 3 years old may attend.
Day Care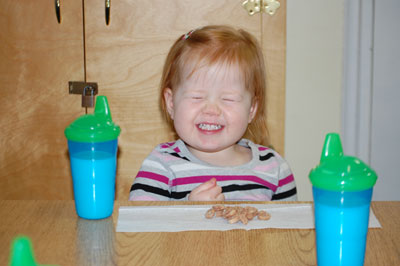 7:30am – 5:30pm Monday – Friday.
Children 8 weeks of age through Kindergarten may attend.
All children 2-1/2 through 4 years old take part in the morning preschool program.
Preschool
Class options for 3 year olds:
3 days a week (Monday, Wednesday, and Friday)
2 days a week (Tuesday and Thursday)
5 days a week (Monday – Friday)
Class options for 4 year olds:
5 days a week (Monday – Friday)
8:30am – 11:30pm with the option to stay for Lunch Bunch any day until 12:30pm. Offered to children 2-1/2 through 4 years old.
There is a stay-day option on Wednesdays and Thursdays until 1:30.
Kindergarten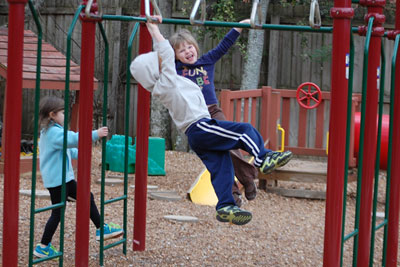 The kindergarten class uses the A Beka Book curriculum for reading and math. Science, Social Studies, music, art, Spanish, and Bible are also part of the curriculum. Fine and gross motor skills development are also stressed. Literacy Centers are part of the daily schedule.
Our kindergarten teacher has a Bachelor Degree in Elementary Education.
Available from 8:00am – 12:30pm for children who turn 5 years old by September 1st.
For additional information about our program, please contact: