First Christian Church Early Childhood Ministry -Since 1973
All slots are currently full.  To be put on the waiting list contact Susan Cooley at susan@fcc-hsv.org.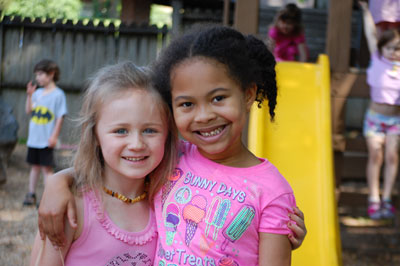 First Christian Church Early Childhood Ministry (FCC – ECM) is a church-sponsored half day and full day preschool, licensed by the State of Alabama Department of Human Resources. We offer a high quality preschool and daycare experience for your child. Our mission is to create a partnership of growth and development for children, parents, and staff in a Christian environment. We strive to provide a foundation that creates life-long learners through a developmentally appropriate learning environment. we work hard to meet the needs of children on an individual basis and promote curiosity and exploration today and into the future.
Our main approach to learning is play-based, teacher-led.  We provide activities in all areas of learning (language, literacy, math, social studies, science, physical development, music, art, and social skills.) Lesson plans and activities are based on the importance of the whole child. Our teachers are highly trained and experienced, many with teaching degrees, but all with a love for children.
Safety is our TOP priority!
Since we are licensed by DHR, we are required to meet strict criteria in keeping our facilities safe and secure. Each family is given security cards to enter the building. Additionally, the doors of the entire building remain locked throughout the day. All staff must be cleared by DHR to work in our facility, which means background checks, fingerprinting, and medical clearance. Daily reports are sent home with all infants through twos. All children are required to have all immunizations. 
AMAZING PLAYGROUNDS!
Two spacious playgrounds that are safe, well-equipped, and well-supervised at all times. We believe that playground time is vital in the development of preschoolers. When playing outdoors they are developing language and social skills by talking, negotiating, sharing, creating order and rules, and trying out leadership roles. If weather does not permit playground time, the children will go to the gym.
What options can First Christian ECM offer your family?
Mothers Morning Out
18 months to 3 (do NOT have to be potty-trained)
bring their own lunch
choose any days
8:30-12:30, 1-5 days a week
WONDERFUL "first time" school experience!
Three's half day 8:30-11:30, (M-F), (M-W-F)
3 by September 1
Lunch option until 12:30 any day
Stay-day option on Wednesday and Thursday until 1:30
Enrichment classes: Music, Kid's in Motion (motor skills), and Wednesday Worship
Pre-k half-day 8:30-12:30
4 by September 1
Hot plate lunch served every day, cooked on-site
Stay-day option on Wednesday and Thursday until 1:30
Enrichment classes: Music, Kid's in Motion (motor skills), Spanish, and Wednesday Worship
Full-time daycare for ages 8 weeks through 5 years old
7:30-5:30
Lunch and snacks included
 ***Rates upon request
For more information, or to schedule a tour, please call the ECM Director, Susan Cooley, at 256-881-4291. You may also reach her by email at susan@fcc-hsv.org.